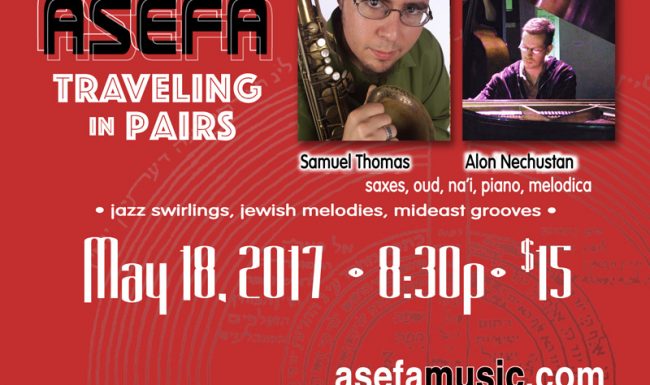 May 18, 2017 Double Bill! Sam Thomas & Alon Nechushtan duo; & Nicole Borger (from Brazil!)
8:30-9:45 Alon Nechustan (Israeli pianist and composer) and Samuel Torjman Thomas (saxophones and oud). Traveling in Pairs takes hold of a wide range of Jewish music repertoire – from Eastern Europe to North Africa, Jerusalem and New York – and gives it an entirely fresh treatment.
10-11:15  Raízes/Roots – A Recording of Jewish Songs Reinvented With a Brazilian Sound.
Before the concert, Dr. Samuel Torjman Thomas will be leading the workshop, exploring the connections between Middle-Eastern and Klezmer approaches to repertoire.
In 2011 we added a Klezmer Workshop to the series, and it has been slowly and steadily gaining momentum. We hope that in our beautiful new setting it will continue to flourish. Often led by series director, Aaron Alexander, the focus is on learning classic klezmer repertoire – usually we'll learn a couple tunes every week. We learn common dance forms and their proper rhythms, the common klezmer modes, melodic ornamentation, accompanying parts, and whatever people want to learn. We often will have the concert artist lead the workshop. In the past we've had Pete Sokolow, Frank London, Michael Winograd, Margot Leverett, Zevy Zions, Matt Darriau, and others guest lead the workshop.
Bring your own instrument and music stand. We learn both by ear and with written music. Music will usually, but not always, be available for C, Bb, and Eb instruments.
There is a discounted fee if you take the workshop and attend the concert – $35